About Us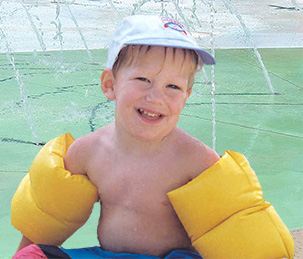 The Joey Pizzano Memorial Fund (JPMF) is a 501(c) (3) organization with a mission of improving the lives of children with special needs and their families. JPMF was founded in 1998 by Robert and Paola Pizzano after the drowning of their 6 year old son Joey. They created this fund to honor Joey's love of water and provide water safety education for children with special needs.
JPMF provides funding and equipment for unique water safety programs, community awareness for individuals with special needs, and networking opportunities for families. JPMF is continually exploring new partnerships and is always looking for additional opportunities of enhancing the lives of special kids special families.

Families raising children with special needs face enormous challenges. JPMF understands how important it is for families of children with disabilities to be able to enjoy each other's differences through activities and outings they can do together. Through the success of JPMF Splash, families began spending more time together in the water. This inspired us to create an inclusive and accessible spraypark for families to enjoy; the kind of place Joey would have loved. JPMF's award winning Splash Program and the opening of Our Special Harbor Sprayground help alleviate some of those challenges, by creating a source of recreation and education that the whole family can enjoy in a caring environment.
The Joey Pizzano Memorial Fund relies on the support and contributions from individual donors and local businesses interested in supporting its mission of improving the lives of children with special needs and their families.
Recognition
JPMF's dedication, leadership and service to the special needs community have repeatedly been recognized.
2001 – Fairfax County Community and Recreation Services (CRS) Distinguished Colleague Award
2004 – NACO (National Association of Counties) Achievement Award for Best of Category
2005 – Fairfax County Board of Supervisors Recognition for Enhancing the Lives of Individuals with Disabilities
2007 – Fairfax County CRS Shining Star Award for Outstanding Partnership and Volunteer Services
2009 – Eakin Philanthropy Award for Outstanding Visionary Contributions to Fairfax County Parks
2012 – Aquatics International Best Sprayground of the Year
2012 – Catalogue for Philanthropy "One of the best small charities in the Greater Washington Area"
Board Members
Robert Pizzano Jr. – President
Paola Pizzano – Vice President
Carmen Egge – Secretary
Lisa Paul – Treasurer
Chris Donovan – Business Development
Mathilde (Tilly) E. Coyle – Communications
Sandi Mak – Disability Awareness Specialist
Tom "Tommy" Pizzano – Disabilities Representative